It is our goal to keep your mouth healthy, your teeth fully functional, and your smile bright — and we are proud of all the services we offer to do exactly that. At the same time, we want you to understand all that modern dentistry in general has to offer you. To that end, we have assembled a first-rate dental library in which you can find a wealth of information on various dental topics, including:
From a thorough professional cleaning to a full smile makeover, there is an amazing array of services that cosmetic and general dentists offer to make sure your teeth stay healthy, function well and look great. If your smile is not all you want it to be, this is the place to start. Read more about Cosmetic & General Dentistry.
When you have a dental emergency — whether it's caused by a sudden accident or chronic disease — your teeth and/or the tissues of the mouth that surround them need to receive proper care right away. It's also important to be aware, before you're actually in the situation, of what you can do to ensure the best outcome. Read more about Emergency Dental Care.
This is the branch of dentistry that focuses on the inside of the tooth — specifically the root canals and sensitive, inner pulp (nerve) tissue. When this tissue becomes inflamed or infected, a root canal procedure may become necessary. But contrary to the popular myth, a root canal doesn't cause pain, it relives it. Read more about Endodontics.
If you are missing one or more teeth, dental implants offer the comfort and security of a permanent replacement that looks and functions just like your natural teeth. Dental implants also help preserve the tooth-supporting bone in your jaw that naturally deteriorates when even one tooth is lost. Read more about Implant Dentistry.
Oral health is an essential component of general health and well-being. Good oral health means a mouth that's free of disease; a bite that functions well enough for you to eat without pain and get ample nutrition; and a smile that lets you express your happiest emotions with confidence. Read more about Oral Health.
A major goal of modern dentistry is to help you keep your teeth and gums healthy for a lifetime. By following a conscientious program of oral hygiene at home, and coming to the dental office for routine cleanings and exams, you have the best chance of making this goal a reality. Read more about Oral Hygiene.
The word "surgery" often brings to mind a stay in the hospital, general anesthesia, and perhaps a lengthy recovery period. However, the experience of having oral surgery is usually very different from that. Some common oral surgery procedures include: tooth extractions, dental implant placement, and biopsies of suspicious oral lesions. Read more about Oral Surgery.
Adults and kids alike can benefit from the boost in self-confidence that comes from having a great-looking smile with beautifully aligned teeth. Orthodontic treatment can even improve chewing, speaking and oral hygiene in certain cases. And with today's virtually invisible orthodontic appliances, it's possible to keep your treatment a private matter… until your new smile is unveiled, of course! Read more about Orthodontics.
It's never too early to get your child started on the path toward a lifetime of good oral health, and there are many services to do exactly that. Monitoring your child's dental growth and development, and preventing and intercepting dental diseases along the way, is the primary focus of pediatric dentistry. Read more about Pediatric Dentistry.
If you want to keep your teeth for life — a completely reasonable goal in this day and age — you need to make sure the tissues that surround them are also healthy. Should gum problems arise, you may need periodontal therapy to restore diseased tissues to health. Read more about Periodontal Therapy.
In the field of dentistry, new technology is constantly changing the way diseases are diagnosed, routine procedures are performed, and illnesses are prevented. Although they may seem unfamiliar at first, new and improved dental technologies offer plenty of real benefits for patients. Read more about Technology.
Although oral cancer may not get as much attention as some more widely-known types of cancer, that doesn't mean it's any less deadly. In fact, it is estimated that in the United States, oral cancer is responsible for killing one person every hour, every day. While it accounts for a relatively small percentage of all cancers, oral cancer is dangerous because it isn't usually detected until it has reached an advanced stage. At that point, the odds aren't great: only about 6 in 10 people will survive after five years of treatment.
If there was a simple test that could give you an early warning about whether you're likely to have this disease, would you take it? The good news is — there is! Since early detection has been shown to increase the survival rate of oral cancer to 80% or better, this test can truly save lives. And best of all, having an oral cancer screening is part of something you should be doing anyway: getting regular dental checkups.
An oral cancer examination is fast and painless. Its objective is to identify small changes in the lining tissues of the mouth, lips and tongue that may signify the early stages of this type of cancer. The screening is primarily a visual and tactile (touch) examination. If any abnormalities are noted, a small tissue sample can be retrieved for further testing in a laboratory.
Who's At Risk for Developing Oral Cancer?
The answer might surprise you. Oral cancer used to be thought of as an older person's disease, and it still mostly affects those over 40. But today, younger people form the fastest-growing segment among oral cancer patients. This is primarily due to the spread of the sexually-transmitted Human Papilloma Virus (HPV16).
Of course, the other major risk factors still apply: If you're middle aged or older, a moderate to heavy drinker or a long-time tobacco user, you have a greater chance of developing oral cancer. Chronic exposure to the sun, long known to cause skin cancer, is also associated with cancers of the lips. Genetic factors are thought to have a major impact on who gets the disease as well.
Detecting Oral Cancer
A thorough screening for oral cancer is part of your routine dental checkup — another reason why you should be examined regularly. The screening includes a visual assessment of your lips, tongue, and the inside of your mouth, including a check for red or white patches or unusual sores. You may be palpated (pressed with fingers) to detect the presence of lumps and swellings, and your tongue may be gently pulled aside for an even better view. A special light, dye, or other procedure may also be used to help check any suspect areas. If anything appears to be out of the ordinary, a biopsy can be easily performed.
If you notice abnormal sores or color changes in the tissue of your mouth, lips and tongue, they may be a symptom of oral cancer — most, however, are completely benign. But sores or other unusual changes that haven't gone away by themselves after 2-3 weeks should be examined. Remember, the only way to accurately diagnose oral cancer is through a laboratory report. Early diagnosis, aided by thorough screenings at your regular dental checkups, is one of the best defenses against oral cancer.
Related Articles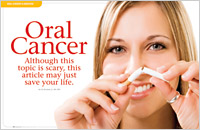 Oral Cancer This article may just save your life. Learn how to notice any unusual lesions (sores or ulcers) anywhere in your mouth that do not heal within two-three weeks. Early detection is key... Read Article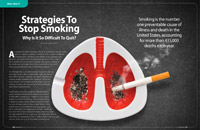 Strategies To Stop Smoking Cigarette smoking is the number one preventable cause of illness and death. Quitting smoking could prevent a large number of diseases and deaths each year. Many smokers find it difficult to stop, a fact that is confirmed by the staggering rate of relapse. Given the fact that cigarette smoking is a learned behavior that is reinforced over time, it makes sense that to be successful in quitting, you must "unlearn" this behavior. Here are some suggested ways to learn how... Read Article