It is our goal to keep your mouth healthy, your teeth fully functional, and your smile bright — and we are proud of all the services we offer to do exactly that. At the same time, we want you to understand all that modern dentistry in general has to offer you. To that end, we have assembled a first-rate dental library in which you can find a wealth of information on various dental topics, including:
From a thorough professional cleaning to a full smile makeover, there is an amazing array of services that cosmetic and general dentists offer to make sure your teeth stay healthy, function well and look great. If your smile is not all you want it to be, this is the place to start. Read more about Cosmetic & General Dentistry.
When you have a dental emergency — whether it's caused by a sudden accident or chronic disease — your teeth and/or the tissues of the mouth that surround them need to receive proper care right away. It's also important to be aware, before you're actually in the situation, of what you can do to ensure the best outcome. Read more about Emergency Dental Care.
This is the branch of dentistry that focuses on the inside of the tooth — specifically the root canals and sensitive, inner pulp (nerve) tissue. When this tissue becomes inflamed or infected, a root canal procedure may become necessary. But contrary to the popular myth, a root canal doesn't cause pain, it relives it. Read more about Endodontics.
If you are missing one or more teeth, dental implants offer the comfort and security of a permanent replacement that looks and functions just like your natural teeth. Dental implants also help preserve the tooth-supporting bone in your jaw that naturally deteriorates when even one tooth is lost. Read more about Implant Dentistry.
Oral health is an essential component of general health and well-being. Good oral health means a mouth that's free of disease; a bite that functions well enough for you to eat without pain and get ample nutrition; and a smile that lets you express your happiest emotions with confidence. Read more about Oral Health.
A major goal of modern dentistry is to help you keep your teeth and gums healthy for a lifetime. By following a conscientious program of oral hygiene at home, and coming to the dental office for routine cleanings and exams, you have the best chance of making this goal a reality. Read more about Oral Hygiene.
The word "surgery" often brings to mind a stay in the hospital, general anesthesia, and perhaps a lengthy recovery period. However, the experience of having oral surgery is usually very different from that. Some common oral surgery procedures include: tooth extractions, dental implant placement, and biopsies of suspicious oral lesions. Read more about Oral Surgery.
Adults and kids alike can benefit from the boost in self-confidence that comes from having a great-looking smile with beautifully aligned teeth. Orthodontic treatment can even improve chewing, speaking and oral hygiene in certain cases. And with today's virtually invisible orthodontic appliances, it's possible to keep your treatment a private matter… until your new smile is unveiled, of course! Read more about Orthodontics.
It's never too early to get your child started on the path toward a lifetime of good oral health, and there are many services to do exactly that. Monitoring your child's dental growth and development, and preventing and intercepting dental diseases along the way, is the primary focus of pediatric dentistry. Read more about Pediatric Dentistry.
If you want to keep your teeth for life — a completely reasonable goal in this day and age — you need to make sure the tissues that surround them are also healthy. Should gum problems arise, you may need periodontal therapy to restore diseased tissues to health. Read more about Periodontal Therapy.
In the field of dentistry, new technology is constantly changing the way diseases are diagnosed, routine procedures are performed, and illnesses are prevented. Although they may seem unfamiliar at first, new and improved dental technologies offer plenty of real benefits for patients. Read more about Technology.
In most people, the third set of molars, generally called "wisdom teeth," start coming in around age 17-25. However, the arrival of these teeth is often far from trouble-free. The extraction (removal) of one or more third molars is a relatively common procedure, performed on some 5 million patients every year. After a thorough examination and diagnostic tests such as x-rays or a CT scan, you may be told that you should have your wisdom teeth extracted. Here are some typical reasons why:
Your jaw may be too small to accommodate all your teeth, leading to excessive crowding and the chance of your wisdom teeth becoming impacted — that is, unable to emerge from the gums, and potentially harmful to adjacent bone or teeth
Your wisdom teeth may be erupting (coming in) in a crooked orientation, which can damage other teeth or anatomical structures in the jaw, and/or cause bite problems
If your wisdom tooth does not fully erupt (emerge from the gums), it can increase the chance for bacterial infection
A cyst (a closed, fluid-filled sac) may develop around the unerupted wisdom tooth, which can cause infection and injury to the adjacent bone or nerve tissue
Whether it is aimed at preventing future problems or needed to alleviate a condition you already have, the extraction of wisdom teeth can be an effective treatment. But, as with all medical procedures, its benefits must be weighed against the small risk of complications, and should be discussed in detail.
The Extraction Procedure
Wisdom tooth extraction is usually an in-office procedure which may be performed by a dentist or an oral surgeon. It's quite possible to have the treatment done with only a local anesthetic (numbing shot) to keep you from experiencing any pain; however, if multiple teeth are being extracted at one time (as is often the case), a general anesthetic or conscious sedation may be administered. The type of anesthesia that's best for you will be determined before the procedure.
Once you have been appropriately anesthetized, the gum tissue at the extraction site may need to be opened if the tooth is impacted. The tooth itself will then be gently removed. When the extraction is complete, you may need to have the site sutured (stitched) to aid healing. After the procedure is over, you will rest for a short time before going home. Depending on what type of anesthesia you have had, you may need another person to drive.
After the Procedure
The recovery period after wisdom tooth extraction generally lasts only a few days. During this time, you should rest when possible to encourage healing, and take any pain medication as prescribed. It's normal to experience some bleeding at the extraction site; this can be controlled by gently biting on gauze pads, changing them as needed, and resting with the head elevated on pillows rather than flat.
Holding an ice pack on the outside of your cheek for a few minutes at a time (for example, 5 minutes on / 5 minutes off) may help reduce swelling on the first day after the procedure. Starting on day 2, the warm moist heat of a washcloth placed on the cheek may make you more comfortable. Rinsing the mouth with warm salt water a few times a day can also help relieve discomfort.
You may want to eat soft foods for a few days after the extraction; likewise, be careful when brushing or putting anything in your mouth until your healing is complete. Be sure to follow the postoperative instructions you are given, as each situation is a little different; this will help you to be as comfortable as possible.
Related Articles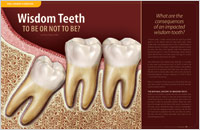 Wisdom Teeth – To Be Or Not To Be Wisdom teeth, which typically make their appearance between the ages of 17 and 25, can cause significant problems when there is not enough room for them to grow in properly. As a person ages, the effects of retained and impacted wisdom teeth can be more consequential. This article reviews the issues associated with wisdom teeth and whether or not they should be removed... Read Article