It is our goal to keep your mouth healthy, your teeth fully functional, and your smile bright — and we are proud of all the services we offer to do exactly that. At the same time, we want you to understand all that modern dentistry in general has to offer you. To that end, we have assembled a first-rate dental library in which you can find a wealth of information on various dental topics, including:
From a thorough professional cleaning to a full smile makeover, there is an amazing array of services that cosmetic and general dentists offer to make sure your teeth stay healthy, function well and look great. If your smile is not all you want it to be, this is the place to start. Read more about Cosmetic & General Dentistry.
When you have a dental emergency — whether it's caused by a sudden accident or chronic disease — your teeth and/or the tissues of the mouth that surround them need to receive proper care right away. It's also important to be aware, before you're actually in the situation, of what you can do to ensure the best outcome. Read more about Emergency Dental Care.
This is the branch of dentistry that focuses on the inside of the tooth — specifically the root canals and sensitive, inner pulp (nerve) tissue. When this tissue becomes inflamed or infected, a root canal procedure may become necessary. But contrary to the popular myth, a root canal doesn't cause pain, it relives it. Read more about Endodontics.
If you are missing one or more teeth, dental implants offer the comfort and security of a permanent replacement that looks and functions just like your natural teeth. Dental implants also help preserve the tooth-supporting bone in your jaw that naturally deteriorates when even one tooth is lost. Read more about Implant Dentistry.
Oral health is an essential component of general health and well-being. Good oral health means a mouth that's free of disease; a bite that functions well enough for you to eat without pain and get ample nutrition; and a smile that lets you express your happiest emotions with confidence. Read more about Oral Health.
A major goal of modern dentistry is to help you keep your teeth and gums healthy for a lifetime. By following a conscientious program of oral hygiene at home, and coming to the dental office for routine cleanings and exams, you have the best chance of making this goal a reality. Read more about Oral Hygiene.
The word "surgery" often brings to mind a stay in the hospital, general anesthesia, and perhaps a lengthy recovery period. However, the experience of having oral surgery is usually very different from that. Some common oral surgery procedures include: tooth extractions, dental implant placement, and biopsies of suspicious oral lesions. Read more about Oral Surgery.
Adults and kids alike can benefit from the boost in self-confidence that comes from having a great-looking smile with beautifully aligned teeth. Orthodontic treatment can even improve chewing, speaking and oral hygiene in certain cases. And with today's virtually invisible orthodontic appliances, it's possible to keep your treatment a private matter… until your new smile is unveiled, of course! Read more about Orthodontics.
It's never too early to get your child started on the path toward a lifetime of good oral health, and there are many services to do exactly that. Monitoring your child's dental growth and development, and preventing and intercepting dental diseases along the way, is the primary focus of pediatric dentistry. Read more about Pediatric Dentistry.
If you want to keep your teeth for life — a completely reasonable goal in this day and age — you need to make sure the tissues that surround them are also healthy. Should gum problems arise, you may need periodontal therapy to restore diseased tissues to health. Read more about Periodontal Therapy.
In the field of dentistry, new technology is constantly changing the way diseases are diagnosed, routine procedures are performed, and illnesses are prevented. Although they may seem unfamiliar at first, new and improved dental technologies offer plenty of real benefits for patients. Read more about Technology.
Osteoporosis is a condition that weakens bones and makes them more prone to fracture. Estimated to affect about 10 million Americans at present, it causes some 2 million fractures each year — and as our population ages, these numbers are expected to increase. Osteoporosis can affect any part of the body — including the jawbone that supports the teeth.
This may be of particular concern if you are considering certain dental procedures — for example, getting dental implants to replace missing teeth. Implants are today's gold standard for tooth replacement, because they look and function so much like real teeth. But their success depends on a process known as osseointegration, by which they fuse to living bone in the jaw. For this to occur, that bone must be relatively healthy; yet osteoporosis — and certain medications used to treat it — may affect your oral health.
Bone: An Ever-Changing Tissue
The living bone tissue in the body isn't like the dry, white skeleton you may have seen in a doctor's office or on TV. It is constantly being remodeled by two natural processes: resorption, in which the body removes and breaks down old, damaged bone; and bone formation, where the removed material is replaced by new, healthy bone. In an ideal situation, both processes happen at an equal rate; osteoporosis, however, tips the balance toward resorption, weakening the bone structure.
A class of drugs called bisphosphonates (whose brand names include Fosamax, Boniva, Reclast and Prolia) can inhibit resorption and help bring the two processes back into balance. But for reasons that aren't fully understood, these medications sometimes have a different effect on the bones of the jaw. In rare cases, long-term bisphosphonate users experience osteonecrosis of the jaw (ONJ), a condition in which isolated areas of jawbone lose their vitality and die. If you are a candidate for oral surgery, tooth extraction or implant placement, it's important to consider the possible effect of bisphosphonate use before you have this type of procedure.
Taking Medication
Over 90 percent of the people who suffer from bisphosphonate-associated ONJ received high doses of the medication intravenously — often for cancer treatment. Only a small percentage of those who take the drug orally are likely to develop this condition. So generally speaking, if you have osteoporosis or are at high risk of bone fractures, the benefit of taking these medications far outweighs the risk.
But if you are about to begin therapy with high doses of bisphosphonates, it's ideal to have a dental exam and resolve any oral disease before beginning the medication. Likewise, while you're receiving the medication, it's best to avoid invasive dental treatments if possible. However, since untreated oral disease may cause serious health problems, be sure to discuss the situation with all members of your medical team before making treatment decisions.
Most people who take oral bisphosphonates for osteoporosis won't have to postpone or avoid dental procedures, because they have little risk of developing ONJ. In the case of dental implant placement, the decision to proceed is made on an individual basis, after a thorough examination of the quality and quantity of tooth-supporting bone in the jaw. The presence of osteoporosis may influence the type of implants used, and the amount of healing time needed to complete the osseointegration process.
No matter what dental procedures you are considering, it is vital to keep us informed about any medical conditions you have, and any drugs you may be taking — both prescription and non-prescription.
Preventing Osteoporosis
There are several ways you can help prevent osteoporosis. For a start, make sure you're getting enough calcium and vitamin D. It also helps to decrease your caffeine and alcohol intake, and quit smoking. Weight-bearing exercise — physical activities that force you to work against gravity, like walking, jogging or weight training — can bring a host of benefits. And don't forget your regular visits to the dental office. Your dental professionals don't just help you to maintain good oral health — we encourage you to keep up your overall health as well.
Related Articles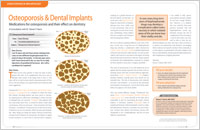 Osteoporosis & Dental Implants If you are taking a bisphosphonate drug for treatment of osteoporosis, any kind of surgery involving the jawbone has a small risk that bone healing may be compromised. This includes tooth removal and the placement of dental implants. It's an important subject that requires a better understanding... Read Article