It is our goal to keep your mouth healthy, your teeth fully functional, and your smile bright — and we are proud of all the services we offer to do exactly that. At the same time, we want you to understand all that modern dentistry in general has to offer you. To that end, we have assembled a first-rate dental library in which you can find a wealth of information on various dental topics, including:
From a thorough professional cleaning to a full smile makeover, there is an amazing array of services that cosmetic and general dentists offer to make sure your teeth stay healthy, function well and look great. If your smile is not all you want it to be, this is the place to start. Read more about Cosmetic & General Dentistry.
When you have a dental emergency — whether it's caused by a sudden accident or chronic disease — your teeth and/or the tissues of the mouth that surround them need to receive proper care right away. It's also important to be aware, before you're actually in the situation, of what you can do to ensure the best outcome. Read more about Emergency Dental Care.
This is the branch of dentistry that focuses on the inside of the tooth — specifically the root canals and sensitive, inner pulp (nerve) tissue. When this tissue becomes inflamed or infected, a root canal procedure may become necessary. But contrary to the popular myth, a root canal doesn't cause pain, it relives it. Read more about Endodontics.
If you are missing one or more teeth, dental implants offer the comfort and security of a permanent replacement that looks and functions just like your natural teeth. Dental implants also help preserve the tooth-supporting bone in your jaw that naturally deteriorates when even one tooth is lost. Read more about Implant Dentistry.
Oral health is an essential component of general health and well-being. Good oral health means a mouth that's free of disease; a bite that functions well enough for you to eat without pain and get ample nutrition; and a smile that lets you express your happiest emotions with confidence. Read more about Oral Health.
A major goal of modern dentistry is to help you keep your teeth and gums healthy for a lifetime. By following a conscientious program of oral hygiene at home, and coming to the dental office for routine cleanings and exams, you have the best chance of making this goal a reality. Read more about Oral Hygiene.
The word "surgery" often brings to mind a stay in the hospital, general anesthesia, and perhaps a lengthy recovery period. However, the experience of having oral surgery is usually very different from that. Some common oral surgery procedures include: tooth extractions, dental implant placement, and biopsies of suspicious oral lesions. Read more about Oral Surgery.
Adults and kids alike can benefit from the boost in self-confidence that comes from having a great-looking smile with beautifully aligned teeth. Orthodontic treatment can even improve chewing, speaking and oral hygiene in certain cases. And with today's virtually invisible orthodontic appliances, it's possible to keep your treatment a private matter… until your new smile is unveiled, of course! Read more about Orthodontics.
It's never too early to get your child started on the path toward a lifetime of good oral health, and there are many services to do exactly that. Monitoring your child's dental growth and development, and preventing and intercepting dental diseases along the way, is the primary focus of pediatric dentistry. Read more about Pediatric Dentistry.
If you want to keep your teeth for life — a completely reasonable goal in this day and age — you need to make sure the tissues that surround them are also healthy. Should gum problems arise, you may need periodontal therapy to restore diseased tissues to health. Read more about Periodontal Therapy.
In the field of dentistry, new technology is constantly changing the way diseases are diagnosed, routine procedures are performed, and illnesses are prevented. Although they may seem unfamiliar at first, new and improved dental technologies offer plenty of real benefits for patients. Read more about Technology.
When you are a child, your first loose tooth can be cause for celebration; when you are an adult, it definitely is not. Biting and chewing with a tooth that is not securely attached in its socket can be difficult or even painful — and any tooth that becomes loose is at risk of needing to be removed or, at worst, falling out. It's often possible to prevent that from happening, but quick action is required.
Causes
The most common reason for tooth looseness is periodontal disease — a bacterial infection of the gum and/or bone tissues that surround and support your teeth. The infection results from bacterial plaque that sits on your teeth in the absence of effective oral hygiene. Over time, periodontal disease will cause gum tissue to detach from the teeth as plaque and tartar formation increases and tooth-supporting bone is lost. As more bone is lost, teeth gradually become loose and are unable to withstand normal biting forces. If severe periodontal disease remains untreated, loose teeth will eventually fall out.
Another common contributor to the loosening of teeth is a clenching or grinding habit that generates too much biting force. This force can stretch the periodontal ligaments that join the teeth to the supporting bone, making your teeth looser. These habits can accelerate bone loss and also cause jaw pain and excessive tooth wear.
Treatment
Just as the causes of loose teeth can be biological (disease) or mechanical (too much force) — or both — so, too, are the treatments. Let's first take a look at the biological approach.
To control gum disease, a dental professional must thoroughly clean the teeth of plaque and harder deposits (tartar or calculus) in which bacteria thrive; this includes the tooth-root surfaces beneath the gum line. At the same visit, you will be instructed on effective oral hygiene techniques and products to use at home. Often this type of deep cleaning, combined with improved oral hygiene, will reduce inflammation and heal the gums enough to cause some tightening of the teeth.
The mechanical approach involves modifying the forces that are applied to the teeth. This can be achieved in a number of ways. For example, an occlusal (bite) adjustment can be performed by carefully reshaping minute amounts of tooth surface enamel. This changes the way upper and lower teeth contact each other, redirecting and lessening the force. Replacing broken fillings and restoring worn teeth is also sometimes needed to create a more balanced bite, even when teeth are not loose.
It is also possible to reduce stresses on teeth by temporarily or permanently splinting them together like fence pickets so that any biting force is distributed among groups of teeth rather than individual loosened teeth. The splint is a very small metal bracket bonded to the backs of or tops of the teeth.
If clenching or grinding habits are a problem, a custom-made bite guard (also called an occlusal splint) can be worn when needed. Placed in the mouth at night or in times of stress, it can protect the teeth from the consequences of too much biting force. This can also be helpful in preventing excessive tooth wear, and sometimes in relieving jaw pain.
Loose teeth can be successfully treated with both biological and mechanical techniques. A thorough examination will be needed to determine the best approach. So if you are experiencing tooth looseness, don't wait — the sooner this problem is addressed, the more likely you are to keep your natural teeth.
Related Articles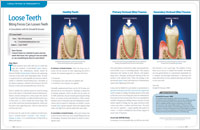 Loose Teeth Tooth looseness is a complex but treatable problem. More often than not, it is a fairly late sign of periodontal (gum) disease. If you are experiencing this, it's important to act fast to try and save your teeth... Read Article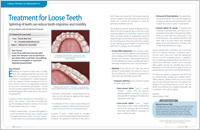 Treatment for Loose Teeth Sometimes very loose teeth can be splinted or joined together like pickets in a fence so that any biting force is distributed among groups of teeth rather than individual loosened teeth. However, before deciding upon a treatment, the long-term prognosis of the teeth must be considered... Read Article