It is our goal to keep your mouth healthy, your teeth fully functional, and your smile bright — and we are proud of all the services we offer to do exactly that. At the same time, we want you to understand all that modern dentistry in general has to offer you. To that end, we have assembled a first-rate dental library in which you can find a wealth of information on various dental topics, including:
From a thorough professional cleaning to a full smile makeover, there is an amazing array of services that cosmetic and general dentists offer to make sure your teeth stay healthy, function well and look great. If your smile is not all you want it to be, this is the place to start. Read more about Cosmetic & General Dentistry.
When you have a dental emergency — whether it's caused by a sudden accident or chronic disease — your teeth and/or the tissues of the mouth that surround them need to receive proper care right away. It's also important to be aware, before you're actually in the situation, of what you can do to ensure the best outcome. Read more about Emergency Dental Care.
This is the branch of dentistry that focuses on the inside of the tooth — specifically the root canals and sensitive, inner pulp (nerve) tissue. When this tissue becomes inflamed or infected, a root canal procedure may become necessary. But contrary to the popular myth, a root canal doesn't cause pain, it relives it. Read more about Endodontics.
If you are missing one or more teeth, dental implants offer the comfort and security of a permanent replacement that looks and functions just like your natural teeth. Dental implants also help preserve the tooth-supporting bone in your jaw that naturally deteriorates when even one tooth is lost. Read more about Implant Dentistry.
Oral health is an essential component of general health and well-being. Good oral health means a mouth that's free of disease; a bite that functions well enough for you to eat without pain and get ample nutrition; and a smile that lets you express your happiest emotions with confidence. Read more about Oral Health.
A major goal of modern dentistry is to help you keep your teeth and gums healthy for a lifetime. By following a conscientious program of oral hygiene at home, and coming to the dental office for routine cleanings and exams, you have the best chance of making this goal a reality. Read more about Oral Hygiene.
The word "surgery" often brings to mind a stay in the hospital, general anesthesia, and perhaps a lengthy recovery period. However, the experience of having oral surgery is usually very different from that. Some common oral surgery procedures include: tooth extractions, dental implant placement, and biopsies of suspicious oral lesions. Read more about Oral Surgery.
Adults and kids alike can benefit from the boost in self-confidence that comes from having a great-looking smile with beautifully aligned teeth. Orthodontic treatment can even improve chewing, speaking and oral hygiene in certain cases. And with today's virtually invisible orthodontic appliances, it's possible to keep your treatment a private matter… until your new smile is unveiled, of course! Read more about Orthodontics.
It's never too early to get your child started on the path toward a lifetime of good oral health, and there are many services to do exactly that. Monitoring your child's dental growth and development, and preventing and intercepting dental diseases along the way, is the primary focus of pediatric dentistry. Read more about Pediatric Dentistry.
If you want to keep your teeth for life — a completely reasonable goal in this day and age — you need to make sure the tissues that surround them are also healthy. Should gum problems arise, you may need periodontal therapy to restore diseased tissues to health. Read more about Periodontal Therapy.
In the field of dentistry, new technology is constantly changing the way diseases are diagnosed, routine procedures are performed, and illnesses are prevented. Although they may seem unfamiliar at first, new and improved dental technologies offer plenty of real benefits for patients. Read more about Technology.
If you're like most people, you probably learned how to brush as a child… and chances are, you haven't thought about it much since then. That's understandable — but there may come a point when we find our oral hygiene techniques could use improvement. Here are a few tips on the proper way to brush your teeth… plus, a reminder of why we do it.
First, the reasons why: Brushing is an effective way to remove plaque — a sticky, bacteria-laden biofilm that clings stubbornly to your teeth. The bacteria in plaque produce acids, which erode the tooth's enamel and may lead to tooth decay. Plaque can also cause gum disease and bad breath. In fact, it's believed that over 90% of dental disease is caused by plaque accumulation alone.
Besides removing plaque, the fluoride in toothpaste strengthens tooth enamel and makes teeth more decay-resistant. Plus, brushing makes your mouth feel cleaner and your breath smell fresher. While there is no single "right" way to brush your teeth, there are a number of techniques that can help you get them squeaky-clean. So why wait — let's take a refresher course in brushing right now!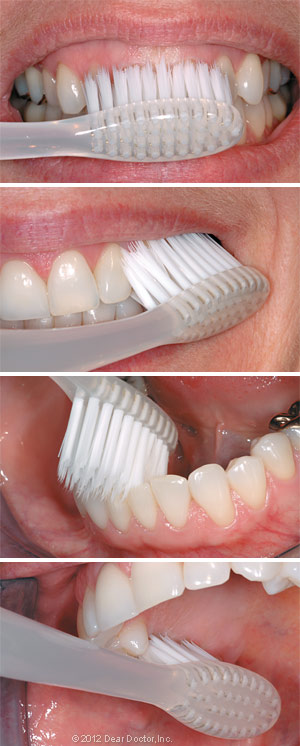 Proper Brushing Technique
To begin, select a small-headed, soft-bristled toothbrush, grasp it gently with your fingers (not your fist), and squeeze on a pea-sized dab of fluoride toothpaste.
Hold the bristles gently against the outside of your top teeth, near the gum line, at about a 45-degree angle upward.
Sweep the brush gently back and forth over teeth and gums in soft strokes — or, if you prefer, use an elliptical (circular) motion to clean the teeth.
Be sure to clean the spaces between teeth: You can use a sweeping motion to brush food particles away from the gums.
When you have done one brush-width, move to the adjacent area of your teeth and repeat. Keep going until you have finished cleaning the outside of the whole top row of teeth.
Move to the bottom teeth. Repeat the procedure, tilting the brush down toward the gum line at about 45 degrees. Finish cleaning the outside of the bottom teeth.
Go on to the inside of the top teeth. Tilting the bristles up toward the gums, clean the inside of the top teeth with gentle but thorough strokes.
Move to the inside of the bottom teeth. Tilt the brush down and repeat the procedure.
Now it's time for the chewing surfaces: Holding the bristles flat against the molars, clean the ridges and valleys of the back teeth. Do this for all the top and bottom teeth.
Finally, brush your tongue gently to remove bacteria and freshen breath.
Check Your Work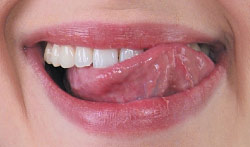 How good a brushing job did you do? One way to get an idea is by simply running your tongue over your teeth: If they feel slick and smooth, then chances are they're clean. If not, you should try again. To know for sure whether you're brushing effectively, you can use a "disclosing solution" — a special dye that highlights plaque and debris your brushing missed.
One common error is not brushing for long enough: two minutes is about the minimum time you need to do a thorough job. If you have music in the bathroom, you could try brushing along with a pop song; when the song's over, you're done! But no matter your musical taste, good brushing technique can go a long way toward maintaining tip-top oral hygiene.
Variations for Comfort
If you're having trouble with the two-finger method, here's another way to try flossing: Just tie the same amount of floss into a big loop, place all your fingers (but not thumbs) inside the loop, and work it around your teeth with index fingers and thumbs. All the other steps remain the same.
Once you've got the basics down, there are a few different types of flosses you can try, including flavored, waxed, and wider width. Some people find waxed floss slides more easily into tighter gaps between teeth or restorations — but it may not make that satisfying "squeak" as it's cleaning. Others prefer wide floss for cleaning around bridgework. But whichever way works best for you, the important thing is to keep it up!
Related Articles