It is our goal to keep your mouth healthy, your teeth fully functional, and your smile bright — and we are proud of all the services we offer to do exactly that. At the same time, we want you to understand all that modern dentistry in general has to offer you. To that end, we have assembled a first-rate dental library in which you can find a wealth of information on various dental topics, including:
From a thorough professional cleaning to a full smile makeover, there is an amazing array of services that cosmetic and general dentists offer to make sure your teeth stay healthy, function well and look great. If your smile is not all you want it to be, this is the place to start. Read more about Cosmetic & General Dentistry.
When you have a dental emergency — whether it's caused by a sudden accident or chronic disease — your teeth and/or the tissues of the mouth that surround them need to receive proper care right away. It's also important to be aware, before you're actually in the situation, of what you can do to ensure the best outcome. Read more about Emergency Dental Care.
This is the branch of dentistry that focuses on the inside of the tooth — specifically the root canals and sensitive, inner pulp (nerve) tissue. When this tissue becomes inflamed or infected, a root canal procedure may become necessary. But contrary to the popular myth, a root canal doesn't cause pain, it relives it. Read more about Endodontics.
If you are missing one or more teeth, dental implants offer the comfort and security of a permanent replacement that looks and functions just like your natural teeth. Dental implants also help preserve the tooth-supporting bone in your jaw that naturally deteriorates when even one tooth is lost. Read more about Implant Dentistry.
Oral health is an essential component of general health and well-being. Good oral health means a mouth that's free of disease; a bite that functions well enough for you to eat without pain and get ample nutrition; and a smile that lets you express your happiest emotions with confidence. Read more about Oral Health.
A major goal of modern dentistry is to help you keep your teeth and gums healthy for a lifetime. By following a conscientious program of oral hygiene at home, and coming to the dental office for routine cleanings and exams, you have the best chance of making this goal a reality. Read more about Oral Hygiene.
The word "surgery" often brings to mind a stay in the hospital, general anesthesia, and perhaps a lengthy recovery period. However, the experience of having oral surgery is usually very different from that. Some common oral surgery procedures include: tooth extractions, dental implant placement, and biopsies of suspicious oral lesions. Read more about Oral Surgery.
Adults and kids alike can benefit from the boost in self-confidence that comes from having a great-looking smile with beautifully aligned teeth. Orthodontic treatment can even improve chewing, speaking and oral hygiene in certain cases. And with today's virtually invisible orthodontic appliances, it's possible to keep your treatment a private matter… until your new smile is unveiled, of course! Read more about Orthodontics.
It's never too early to get your child started on the path toward a lifetime of good oral health, and there are many services to do exactly that. Monitoring your child's dental growth and development, and preventing and intercepting dental diseases along the way, is the primary focus of pediatric dentistry. Read more about Pediatric Dentistry.
If you want to keep your teeth for life — a completely reasonable goal in this day and age — you need to make sure the tissues that surround them are also healthy. Should gum problems arise, you may need periodontal therapy to restore diseased tissues to health. Read more about Periodontal Therapy.
In the field of dentistry, new technology is constantly changing the way diseases are diagnosed, routine procedures are performed, and illnesses are prevented. Although they may seem unfamiliar at first, new and improved dental technologies offer plenty of real benefits for patients. Read more about Technology.
If you have lost any of your teeth, you no doubt realize there are consequences to living without them: Your smile may not look the way you want it to; eating, speaking and intimacy may be more difficult; and your self-confidence may fade. Though serious, these are not the only impacts. There are hidden consequences of losing teeth that affect not only your appearance but also your health.
Importantly, a loss of jawbone inevitably follows tooth loss. Bone needs stimulation to maintain its form and density. In the case of the jawbone, that stimulation comes from the teeth, which make hundreds of fleeting contacts with each other throughout the day. The small stresses produced by these contacts are transmitted to the bone, prompting it to regenerate constantly. When a tooth is lost, the stimulation it provided disappears. In just the first year of tooth loss, there is a 25% decrease in bone width. This is followed over the next few years by an overall 4 millimeters decrease in height. If enough teeth are lost, and as bone loss continues, the distance from nose to chin can decrease and the lower third of the face partially collapses. With a lack of structural support, the lips sag; that's why toothless people often appear unhappy. Also, extreme loss of bone can make an individual more prone to jaw fractures.
You may also find that some of your remaining teeth actually shift into the spaces left open by your missing teeth. This in turn can cause additional bite problems and even jaw joint (TMJ) pain. Finally, compromised nutrition and poor general health can result if eating healthy foods like raw fruits and vegetables becomes too difficult without teeth.
Now here's the good news: Dental implants — the state-of-the-art tooth-replacement method preferred by dentists — can prevent all this.
How Dental Implants Prevent Bone Loss
Besides helping a person without teeth look and feel great again, dental implants actually prevent bone loss. That's because they are made of titanium, which has a unique ability to fuse to living bone. By actually becoming a permanent part of the jawbone, dental implants stabilize and stimulate the bone to maintain its volume and density.
Dental implants are placed during a minor surgical procedure using local anesthetic and then, after a healing period, topped with a lifelike dental crown. Together, these precision components look, feel and function exactly like your natural teeth. Dental implant success rates exceed 95% — the highest of any tooth-replacement option.
Other Options for Tooth Replacement
Other than dental implants, your tooth-replacement options include fixed bridgework that incorporates or uses the adjacent teeth, and removable dentures. You should be aware, however, that the disadvantage of both of these options is that they may damage the anatomical structures on which they rest. For example, fixed bridges rely on support from two adjacent, possibly healthy teeth, which must be filed down and capped; this can make them susceptible to decay and root canal problems. Removable partial dentures hook onto existing teeth, which may become loose over time. And full dentures press on the bony ridges that used to support the teeth, accelerating the bone loss that began when the teeth were lost in the first place.
The above tooth-replacement options are all less expensive than dental implants, but only when viewed in the short term. Since bridgework and dentures may cause new problems and will likely need replacement themselves, they don't offer the same long-term value. When viewed as an enduring investment in your comfort, health and well-being, implants offer the best return by far.
Related Articles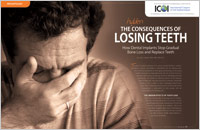 The Hidden Consequences of Losing Teeth For those missing even one tooth, an unsightly gap is actually the least significant problem. What's of far greater concern is the bone loss that inevitably follows tooth loss. Dental implants can preserve bone, improve function and enhance psychological well-being. Learn how implants serve both as anchors to support replacement teeth and preserve bone... Read Article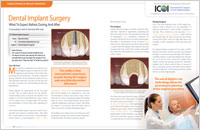 Dental Implant Surgery Many people are surprised at how relatively easy dental implant surgery is because they let their imaginations get the better of them before they go through the actual procedure. The reality is that most patients experience no pain during the surgery and very little discomfort afterward. Let's back up and start with the basics to increase your understanding and allay any apprehension... Read Article