It is our goal to keep your mouth healthy, your teeth fully functional, and your smile bright — and we are proud of all the services we offer to do exactly that. At the same time, we want you to understand all that modern dentistry in general has to offer you. To that end, we have assembled a first-rate dental library in which you can find a wealth of information on various dental topics, including:
From a thorough professional cleaning to a full smile makeover, there is an amazing array of services that cosmetic and general dentists offer to make sure your teeth stay healthy, function well and look great. If your smile is not all you want it to be, this is the place to start. Read more about Cosmetic & General Dentistry.
When you have a dental emergency — whether it's caused by a sudden accident or chronic disease — your teeth and/or the tissues of the mouth that surround them need to receive proper care right away. It's also important to be aware, before you're actually in the situation, of what you can do to ensure the best outcome. Read more about Emergency Dental Care.
This is the branch of dentistry that focuses on the inside of the tooth — specifically the root canals and sensitive, inner pulp (nerve) tissue. When this tissue becomes inflamed or infected, a root canal procedure may become necessary. But contrary to the popular myth, a root canal doesn't cause pain, it relives it. Read more about Endodontics.
If you are missing one or more teeth, dental implants offer the comfort and security of a permanent replacement that looks and functions just like your natural teeth. Dental implants also help preserve the tooth-supporting bone in your jaw that naturally deteriorates when even one tooth is lost. Read more about Implant Dentistry.
Oral health is an essential component of general health and well-being. Good oral health means a mouth that's free of disease; a bite that functions well enough for you to eat without pain and get ample nutrition; and a smile that lets you express your happiest emotions with confidence. Read more about Oral Health.
A major goal of modern dentistry is to help you keep your teeth and gums healthy for a lifetime. By following a conscientious program of oral hygiene at home, and coming to the dental office for routine cleanings and exams, you have the best chance of making this goal a reality. Read more about Oral Hygiene.
The word "surgery" often brings to mind a stay in the hospital, general anesthesia, and perhaps a lengthy recovery period. However, the experience of having oral surgery is usually very different from that. Some common oral surgery procedures include: tooth extractions, dental implant placement, and biopsies of suspicious oral lesions. Read more about Oral Surgery.
Adults and kids alike can benefit from the boost in self-confidence that comes from having a great-looking smile with beautifully aligned teeth. Orthodontic treatment can even improve chewing, speaking and oral hygiene in certain cases. And with today's virtually invisible orthodontic appliances, it's possible to keep your treatment a private matter… until your new smile is unveiled, of course! Read more about Orthodontics.
It's never too early to get your child started on the path toward a lifetime of good oral health, and there are many services to do exactly that. Monitoring your child's dental growth and development, and preventing and intercepting dental diseases along the way, is the primary focus of pediatric dentistry. Read more about Pediatric Dentistry.
If you want to keep your teeth for life — a completely reasonable goal in this day and age — you need to make sure the tissues that surround them are also healthy. Should gum problems arise, you may need periodontal therapy to restore diseased tissues to health. Read more about Periodontal Therapy.
In the field of dentistry, new technology is constantly changing the way diseases are diagnosed, routine procedures are performed, and illnesses are prevented. Although they may seem unfamiliar at first, new and improved dental technologies offer plenty of real benefits for patients. Read more about Technology.
Some people feel self-conscious about smiling because they believe their gums are too prominent. Though we each have our own definition of what makes a smile beautiful — including how much gum is too much — a smile will usually be perceived as "gummy" when 4 millimeters (just over an eighth of an inch) of gum tissue shows. If your smile looks gummy to you, it's important to figure out exactly what's causing this. Only then can the appropriate cosmetic dental or periodontal (gum) procedures be recommended to give you a more pleasing appearance of the gums and teeth.
Causes
Gummy smiles may be caused by one or more factors relating to the gums themselves, the teeth, or even the lip or jaw. Each of these areas will require a different approach to solving the problem. Let's look at some of the ways a gummy smile can be corrected:
Gums. If your teeth appear too short in relation to your gums, it could be that they are being covered up by too much gum tissue. This problem can be solved with a periodontal plastic surgery technique called "crown lengthening," which involves removing and reshaping the excess tissue to expose the full length of teeth.
Teeth. There are natural variations in the tooth-eruption process that can result in shorter than normal teeth and gumminess of the smile. If that's the case, your teeth can be made to appear longer by capping (crowning) them or covering them with thin porcelain veneers. It's also possible that your teeth have become worn down over time, especially if you have a grinding habit. When this happens, it can cause what is known as compensatory eruption. To compensate for the wear and maintain a functional bite, the teeth actually begin to move (or erupt) very slowly outward from the gum. This makes the smile appear gummier because the gums, which are attached to the teeth, move with them as they erupt. In some cases orthodontic treatment can be used to move the affected teeth back up into correct position. Afterwards, the worn-down teeth would usually be restored with porcelain crowns or veneers.
Lip. On average, the upper lip moves 6 to 8 millimeters from its normal resting position to a full smile. If the lip is hypermobile, meaning it rises much farther up, more gum tissue will be revealed. Here the action of the muscles that control the lip will need to be modified so they don't raise it quite so high. Treatment can range from Botox shots that temporarily paralyze the muscles (for about six months), to surgery that permanently restricts how high the lip can move, referred to as a lip stabilization procedure.
Jaw. Sometimes the upper jaw (maxilla) is too long for the face, a condition referred to as Vertical Maxillary Excess. If this is the case, the jaw would need to be repositioned with orthognathic surgery ("ortho" – straighten; "gnathos" – jaw). Of all the treatment listed here, this one is the most complex — but it can achieve dramatic results.
As you can see, there is no one-size-fits-all approach to correcting a gummy smile. However, there are various techniques that can achieve dramatic improvements.
Related Articles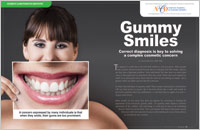 Gummy Smiles Sometimes a smile doesn't look as appealing as it could because the gums appear too prominent. If this describes your smile and it's something you want to change, chances are you can be helped by one of several available treatments. But first your dentist will need to determine exactly why your smile looks gummy to begin with. Find out the various causes and treatments... Read Article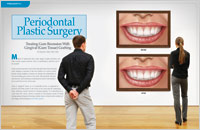 Periodontal Plastic Surgery Millions of Americans have some degree of gum recession — a loss of the tough, pink tissue that surrounds teeth. Receding gums can cause anything from minor tooth sensitivity to tooth loss in very severe cases. Fortunately, the field of periodontal plastic surgery has made enormous strides in devising techniques, including grafting, to deal with the problem of lost or damaged gum tissue... Read Article