It is our goal to keep your mouth healthy, your teeth fully functional, and your smile bright — and we are proud of all the services we offer to do exactly that. At the same time, we want you to understand all that modern dentistry in general has to offer you. To that end, we have assembled a first-rate dental library in which you can find a wealth of information on various dental topics, including:
From a thorough professional cleaning to a full smile makeover, there is an amazing array of services that cosmetic and general dentists offer to make sure your teeth stay healthy, function well and look great. If your smile is not all you want it to be, this is the place to start. Read more about Cosmetic & General Dentistry.
When you have a dental emergency — whether it's caused by a sudden accident or chronic disease — your teeth and/or the tissues of the mouth that surround them need to receive proper care right away. It's also important to be aware, before you're actually in the situation, of what you can do to ensure the best outcome. Read more about Emergency Dental Care.
This is the branch of dentistry that focuses on the inside of the tooth — specifically the root canals and sensitive, inner pulp (nerve) tissue. When this tissue becomes inflamed or infected, a root canal procedure may become necessary. But contrary to the popular myth, a root canal doesn't cause pain, it relives it. Read more about Endodontics.
If you are missing one or more teeth, dental implants offer the comfort and security of a permanent replacement that looks and functions just like your natural teeth. Dental implants also help preserve the tooth-supporting bone in your jaw that naturally deteriorates when even one tooth is lost. Read more about Implant Dentistry.
Oral health is an essential component of general health and well-being. Good oral health means a mouth that's free of disease; a bite that functions well enough for you to eat without pain and get ample nutrition; and a smile that lets you express your happiest emotions with confidence. Read more about Oral Health.
A major goal of modern dentistry is to help you keep your teeth and gums healthy for a lifetime. By following a conscientious program of oral hygiene at home, and coming to the dental office for routine cleanings and exams, you have the best chance of making this goal a reality. Read more about Oral Hygiene.
The word "surgery" often brings to mind a stay in the hospital, general anesthesia, and perhaps a lengthy recovery period. However, the experience of having oral surgery is usually very different from that. Some common oral surgery procedures include: tooth extractions, dental implant placement, and biopsies of suspicious oral lesions. Read more about Oral Surgery.
Adults and kids alike can benefit from the boost in self-confidence that comes from having a great-looking smile with beautifully aligned teeth. Orthodontic treatment can even improve chewing, speaking and oral hygiene in certain cases. And with today's virtually invisible orthodontic appliances, it's possible to keep your treatment a private matter… until your new smile is unveiled, of course! Read more about Orthodontics.
It's never too early to get your child started on the path toward a lifetime of good oral health, and there are many services to do exactly that. Monitoring your child's dental growth and development, and preventing and intercepting dental diseases along the way, is the primary focus of pediatric dentistry. Read more about Pediatric Dentistry.
If you want to keep your teeth for life — a completely reasonable goal in this day and age — you need to make sure the tissues that surround them are also healthy. Should gum problems arise, you may need periodontal therapy to restore diseased tissues to health. Read more about Periodontal Therapy.
In the field of dentistry, new technology is constantly changing the way diseases are diagnosed, routine procedures are performed, and illnesses are prevented. Although they may seem unfamiliar at first, new and improved dental technologies offer plenty of real benefits for patients. Read more about Technology.
Millions of people in the United States, particularly teenage girls and young women, suffer from health-threatening eating disorders, and dentists are often the first to spot the signs. Why? The repeated, self-induced vomiting that characterizes bulimia nervosa has a pronounced effect on teeth. Anorexia nervosa (self-starvation) can also have some noticeable effects on oral health.
More than 90% of those with bulimia experience tooth erosion. This is caused by acid from the stomach, which can dissolve the enamel when it comes in contact with teeth during vomiting. Teeth that have lost enamel can appear worn, chip easily, and become sensitive to hot and/or cold. Of course, acid erosion can also affect people who drink a lot of soda, sports drinks and energy drinks — even the diet varieties. But acid erosion in bulimics has a particular pattern: It is evident on the upper front teeth, particularly on the tongue side and biting edges. The bottom teeth, on the other hand, tend to be protected by the tongue when a person throws up.
Once enamel is lost, it can't grow back. But the damage can be repaired with various restorative techniques including veneers and/or crowns. The best treatment will be determined by how extensive the damage is, which in turn depends on how frequently the person has engaged in binge-purge behavior.
To protect teeth in the short term, it is important not to brush them immediately after vomiting as this can scrape off more of the softened enamel. It is better to rinse with water to which a little baking soda has been added, which neutralizes the acid. Even a plain water rinse is helpful. Sometimes a sodium fluoride mouthrinse is recommended to strengthen the enamel and reduce its loss.
Erosion is not the only sign of an eating disorder that a dentist or hygienist may notice. In severe cases the salivary glands can become enlarged, causing the sides of the face under the ears to look puffy. Also, the throat, back of the tongue and roof of the mouth can appear reddened or otherwise traumatized from the use of fingers or other objects to induce gagging. Soft tissues of the mouth can also be damaged by acid.
Only about 20% of anorexics experience tooth erosion, but there are other signs that may become apparent in the dental office. Nutrition and hygiene suffer in general, which in turn can mean more tooth decay and gum disease. There is also considerable overlap between anorexia and bulimia.
If you are struggling with an eating disorder or believe that a loved one is, please let your healthcare professionals know. We will make sure you get the help you need for healthy teeth and a healthy life. You can also visit the National Eating Disorders Association for some helpful information.
Related Articles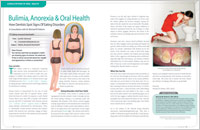 Bulimia, Anorexia & Oral Health Eating disorders, particularly bulimia nervosa, can leave telltale signs on the teeth that dentists and hygienists are trained to spot. The frequency with which a person engages in binge-purge behavior will determine how seriously the teeth are affected... Read Article