It is our goal to keep your mouth healthy, your teeth fully functional, and your smile bright — and we are proud of all the services we offer to do exactly that. At the same time, we want you to understand all that modern dentistry in general has to offer you. To that end, we have assembled a first-rate dental library in which you can find a wealth of information on various dental topics, including:
From a thorough professional cleaning to a full smile makeover, there is an amazing array of services that cosmetic and general dentists offer to make sure your teeth stay healthy, function well and look great. If your smile is not all you want it to be, this is the place to start. Read more about Cosmetic & General Dentistry.
When you have a dental emergency — whether it's caused by a sudden accident or chronic disease — your teeth and/or the tissues of the mouth that surround them need to receive proper care right away. It's also important to be aware, before you're actually in the situation, of what you can do to ensure the best outcome. Read more about Emergency Dental Care.
This is the branch of dentistry that focuses on the inside of the tooth — specifically the root canals and sensitive, inner pulp (nerve) tissue. When this tissue becomes inflamed or infected, a root canal procedure may become necessary. But contrary to the popular myth, a root canal doesn't cause pain, it relives it. Read more about Endodontics.
If you are missing one or more teeth, dental implants offer the comfort and security of a permanent replacement that looks and functions just like your natural teeth. Dental implants also help preserve the tooth-supporting bone in your jaw that naturally deteriorates when even one tooth is lost. Read more about Implant Dentistry.
Oral health is an essential component of general health and well-being. Good oral health means a mouth that's free of disease; a bite that functions well enough for you to eat without pain and get ample nutrition; and a smile that lets you express your happiest emotions with confidence. Read more about Oral Health.
A major goal of modern dentistry is to help you keep your teeth and gums healthy for a lifetime. By following a conscientious program of oral hygiene at home, and coming to the dental office for routine cleanings and exams, you have the best chance of making this goal a reality. Read more about Oral Hygiene.
The word "surgery" often brings to mind a stay in the hospital, general anesthesia, and perhaps a lengthy recovery period. However, the experience of having oral surgery is usually very different from that. Some common oral surgery procedures include: tooth extractions, dental implant placement, and biopsies of suspicious oral lesions. Read more about Oral Surgery.
Adults and kids alike can benefit from the boost in self-confidence that comes from having a great-looking smile with beautifully aligned teeth. Orthodontic treatment can even improve chewing, speaking and oral hygiene in certain cases. And with today's virtually invisible orthodontic appliances, it's possible to keep your treatment a private matter… until your new smile is unveiled, of course! Read more about Orthodontics.
It's never too early to get your child started on the path toward a lifetime of good oral health, and there are many services to do exactly that. Monitoring your child's dental growth and development, and preventing and intercepting dental diseases along the way, is the primary focus of pediatric dentistry. Read more about Pediatric Dentistry.
If you want to keep your teeth for life — a completely reasonable goal in this day and age — you need to make sure the tissues that surround them are also healthy. Should gum problems arise, you may need periodontal therapy to restore diseased tissues to health. Read more about Periodontal Therapy.
In the field of dentistry, new technology is constantly changing the way diseases are diagnosed, routine procedures are performed, and illnesses are prevented. Although they may seem unfamiliar at first, new and improved dental technologies offer plenty of real benefits for patients. Read more about Technology.
Firmly anchored in your jaw and protected by an outer coating of tough enamel, your teeth are remarkably strong — yet it's still possible for them to chip, crack, or even break. In fact, there is some evidence that today, our teeth are developing cracks at a record rate. This may be due to the fact that people are living longer (giving teeth more time to accumulate damage), or that our stress levels are increasing (which may cause teeth clenching and grinding).
Biting on hard objects, receiving a blow to the mouth, or having large cavities (or old amalgam fillings) that weaken the tooth's structure are also common causes of tooth fractures. But no matter of the cause, there are a number of symptoms that indicate a tooth may be cracked, and several treatments we can offer, depending on the severity of the injury.
Small chips on the edges or cusps of teeth often cause no symptoms, and can be treated by cosmetic bonding or other methods. Deeply fractured teeth, on the other hand, may be a serious problem. The sooner they are treated, the more likely it is that the affected tooth can be saved. Let's take a look closer look at the types of fractures teeth can develop, and the symptoms they may produce.
Minor Cracks (craze lines)
These tiny fissures in the outer enamel of the tooth often cause few or no symptoms; in fact, most don't require treatment. If you are having tooth pain, however, these cracks will need to be evaluated and possibly treated. That's because without a careful examination, there is no way to know for sure whether these cracks go into only the enamel, or if they penetrate into the dentin (inner body) of the tooth. While the tiniest craze lines don't show up on X-rays, they can often be detected by feel (using a small instrument called an explorer), by having you close down on a "bite stick," or by using special dye stains or high-magnification instruments.
Vertical Cracks

This type of crack often starts at the chewing surface and extends toward the roots — but may it also begin in the root and continue toward the crown. Either way, it doesn't completely separate the tooth into two parts. Depending on the extent of the fracture, you may feel only minor discomfort that occurs in response to temperature changes (with hot or cold beverages, for example); or, it may produce sharp pain when you chew. In any case, you shouldn't ignore the symptoms, because cracked teeth require dental treatment quickly to keep them from progressing further. If the cracks continue to progress, tooth extraction may become necessary.
Deep Fractures or Split Teeth
When serious fractures occur, you'll know it: The distinct parts of the tooth can be separated from each other, and tooth's pulp is often inflamed and painful. This condition requires immediate treatment, and it's rarely possible to save the affected tooth.
Treatment for Cracked Teeth
What treatment is best for a cracked tooth depends on the extent and the severity of the damage. If a small crack is detected early enough, it's often possible to seal the fissure with restorative materials. For larger cracks that involve the pulp of the tooth, root canal treatment is generally required. Afterward, the visible structure of the tooth may be restored with a crown or "cap." Sometimes, additional procedures may be recommended to try and save the tooth. In the most severe cases, however, the tooth will need to be extracted.
The preferred treatment for cracked teeth is — you guessed it — prevention! Wearing proper protective equipment (including a custom-fitted mouthguard) when playing sports, and staying alert to dangerous situations (like distracted or impaired driving) can help keep you safe. So can regular dental checkups, where your teeth are examined carefully for early signs of a problem. However, if you experience any symptoms that could indicate a cracked tooth, don't wait: The sooner it's treated, the better the chance that we can save it.
Related Articles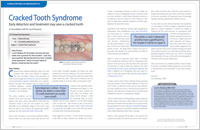 Cracked Tooth Syndrome Teeth are fracturing today in record numbers. Causes include longer life spans (older, brittle teeth tend to crack more) and higher stress levels, which may lead to increased teeth clenching and grinding. The earlier a crack is detected and the more superficial it is, the simpler it will be to repair it... Read Article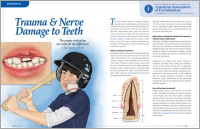 Trauma & Nerve Damage to Teeth Answers to treatment of specific dental injuries — not only do injuries and their treatment vary, but they are also influenced by the type of tooth, whether baby or adult teeth, and their stage of growth and development. From chipped to fractured teeth, modern dentistry's answers are here and now... Read Article